As a bit of variation, away from all things musical, this page is dedicated to my cricket interests, and I'll be sharing snippets of interesting ( hopefully ) information, pictures, experiences etc. for all you cricket fans out there !
I play cricket in the summer, knees permitting, and as an opening bowler, I subject myself to homicidal maniacs ( batsmen ) who like nothing more than to hammer the ball as hard as they can in my direction.
---
Up-date coming Soon … including Rob the Umpire / Duck Award 2013 /Knee op, April 2015 – Out of action for the season ! !
---
Rob's Cricket 'Career'
My earliest cricket was played in a back alley in Greenford when I was growing up. This progressed to two or three brief appearances in junior school house matches. I then played colts cricket at Perivale Cricket Club – one solitary game away at Kew when I was 12 years old.  My first experience of club cricket came when I had just turned fourteen, playing for Phoenicians Cricket Club away at Colne Valley on a Saturday in August 1970. We had arrived at the ground a player short so I found myself thrust into club cricket wearing a pair of borrowed white jeans and brown suede boots. I batted at number eleven and was not out  nought, the first of many down the years. ( I suspect I probably hold the record for 'not out noughts' by any player in Phoenicians history ! )  Anyway, later on in the game I took a catch, fielding at gulley.
The club was fairly strong in the seventies with some good players in the ranks but only ran one team until later in the decade. They entered the Benson & Hedges Middlesex League ( which later became The Morrant League and some years later, The Fullers Championship )  in 1977. Unfortunately, the strength of the team started to dwindle soon afterwards.
I played many games throughout the seventies, becoming more and more of a regular as time went on. However I was still batting at eleven and not getting a bowl. Having reached my twenties with no bowling experience behind me, the frustration eventually culminated with my departure in 1980, to try my luck at local rivals Perivale. After a handful of games in their second team, it was fast becoming apparent that I wasn't going to get much of a chance in a hurry here either. Then, I got a phone call from Phoenicians, explaining that they were starting a second team and that they would like me to be part of it and that I would get to bowl regularly. So I made the easy decision to go back to Phoenicians and sure enough I began opening the bowling every week and learning all the time and was the second team's opening bowler for the next few seasons.
First Award 1982
By 1982, the Phoenicians 2nd XI was now well established, laying the foundations for player development within the club. Certainly, my bowling would never have developed the way it did without it and the 1982 season saw me collect a club award for my improved bowling.
The following 1983 season, I was up and down between the 1st and 2nd elevens, reflecting my patchy form.
The 1984 Season proved to be a turning point for me, as I grabbed a regular First Team place with both hands. I was on top form and played in every first team game that season ; Saturdays, Sundays, tour games and one or two mid-week cup games !
Regrettably, the overall strength of the club was still a little disappointing at this time, languishing in the bottom half of Division Two. The club was in a state of transition, although there was a crop of younger players coming through to give some optimism for the future.  We still had our moments though. One of the highlights of the season was our League Cup win away against Birkbeck College who were top of Division One at the time !  I made my contribution with four wickets and we were even featured in the Ealing Gazette the following weekend … complete with team photo too !  With my consistent displays week-in week-out and a contribution of 45 wickets for the season, I was awarded the club's most prestigious trophy,  The Jubilee Cup.
Five Seasons At Ruislip
Having become increasingly disillusioned at Phoenicians, I decided it was time to move on before the 1994 season. Half way through the season I eventually joined Ruislip Cricket Club. I stayed there for five years, during which, I experienced the success of two promotions in my first two seasons at the club, followed by the disappointment of relegation in each of the following two years. My last season was fairly uneventful, at least from a promotion / relegation perspective. Unfortunately, I missed out on a medal for the 1994 promotion as I didn't join the club early enough in the season, so I didn't play enough games.  However, I did get an award for us finishing as Champions in the 1995 season, although I missed some games later in the season due to injury.
The Perivale  and  Perivale-Phoenicians years  … Coming soon ! !
Season  2009 
The cricket section won the Spelthorne Sports Club Cricket 6-a-side competition.
I was privileged to be awarded Spelthorne Melrose Cricket Club's bowling award for the 2009 season.
Season  2010 : Spelthorne – Champions !
Spelthorne finished the 2010 season as Champions of the Ram Surrey League Division 4, having won every game in the Division without too much trouble.  That said, the season ended amidst some controversy. The final game was due to have been away at Croydon Lions, who were our only rivals for top spot, but this last fixture was never played as, when we arrived for the game, having travelled all the way across south London, it quickly became apparent that no pitch had been prepared.  A shame that, what should have been an intriguing game, could not go ahead. Both clubs had long since secured promotion but who would be Champions was still all to play for.  In the end, it came down to a meeting of the League committee and their decision. The league subsequently awarded all the points for this game to Spelthorne. This clinched top spot. So a great achievement for the club, playing its first season in the league.
On a personal note, it all started so well. My first league game saw a 4 wicket return as my early season form carried on from the previous year.  However the away game at Cheam was where it all went horribly 'pear shaped', during an opening spell of six overs for just nine runs. On the last ball of the sixth over I felt the right knee go. To be fair, it had been niggling for a while, even going back to the previous season. So that was more or less it, effectively the end of my season !  In August 2010 I had an operation on my injured right knee. This was followed by 4 months of rehab, but it soon became clear, looking ahead to 2011, that cricket for me was never going to be quite the same again !  It was some comfort however, to receive a much valued league winner's medal, for the contribution I had been able to make earlier in the 2010 season.
Having undergone further surgery in January 2012, this time on the left knee, it seemed increasingly unlikely that I would play too many games in the forthcoming season. With this in mind, and having passed my Level 1 Umpires' course in March, it seemed that I would be umpiring at least as much as playing. However, I managed to play sixteen games including a number of league games. Although now unable to bowl with the vigour of days gone by, and with my run up and delivery stride modified somewhat, I still managed a season's haul of nineteen wickets. The season was rounded off by being presented with the Clubman Award for 2012.  2013 to the current 2015 season has been riddled with further knee problems. My left knee was replaced in October 2013 and my right knee followed suit in April 2015. Suffice it to say, I've played little in the last few seasons, spending a lot of time recovering from all the surgery. That said, I managed enough games in 2013 to secure the 'Duck' award !
*   to be continued *
---
Rob's Trophy Cabinet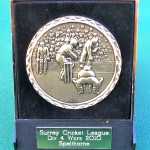 League Winner's Medal 2010 ( Spelthorne CC )
---
---