Welcome to the unofficial Riff Raff website  
…  the page dedicated to Riff Raff.  
Riff Raff is the band I've played in since 2002, and now it's time to share snippets of interesting ( hopefully ) information, pictures, experiences etc. for all you Riff Raff fans out there !   The Riff Raff boys are always up to something or other so make sure you keeping logging onto this page for all the latest news.  You can also catch up on Riff Raff's history … chequered or otherwise !
---
Latest News  (12 / 7 / 2019) :
* New Release *   T o  A l l  I n t e n t s'   b y  R i f f  R a f f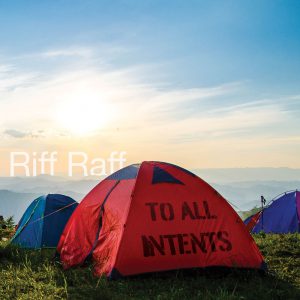 Riff Raff are back! The band has just released their third album,  'To All Intents'.
Release of this fifteen track blockbuster sees the band displaying various different styles of music. Track one gets the album under way with a rocker, "Why, Why, Why".  "It's You" visits the world music genre, or perhaps a hark back to 60's psychedelia? "Take The Money And Run" segues into "The Blue River" hinting at 70's progressive rock.Then comes an unexpected twist, as "Crossover Club" and "Whatcha Gonna Do With That Broken Heart" takes a more jazz orientated approach. There are no apologies for the obvious Santana style of "Magic Planet". The album winds down revisiting the Crossover Club, with a more floaty, but less jazzy feel. Three years work in the studio has produced a fun, varied and very listenable collection of new music, with something to interest and entertain just about everyone.
Check out  'To All Intents'  on iTunes, Spotify and YouTube
---
Latest News (13/4/2016 ) :
* New Release * 
*' S t r a n g e r   H e r e ,  T h a n   O v e r   T h e r e '   b y  R i f f  R a f f *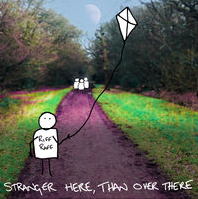 The Riff Raff boys are about to release their second album, with the somewhat cryptic title, 'Stranger Here, Than Over There'.  It boasts another 12 self-penned tracks, written by Kempton, Andrews and Kemmenoe …Oh no, those initials spell out KAK !  It's not … it really is rather good !  The new CD is due out on Friday 22nd April 2016.  According to the calendar hanging on my wall, this is 'Earth Day' and there's a full moon that night !  I don't know if it's of any significance, but that sort of fits in, loosely, with the lyrics of the title track. The album in general is a mixed bag, displaying some varying styles of music. Tracks include, 'Took Away The Light'; a dark, spooky sort of song, that will have you cowering under the bed sheets.  Then there's the atmospheric acoustic led 'Only Me'. There's even a nod to prog rock with 'Empty Words'. And what about 'Tomorrow's Hope Never Dies'; a Bond theme that Dame Shirley would have been proud of. It's all rounded off with the autobiographical 'I'm Riff Raff'; good old rock'n'roll at its best, which gets you tapping and singing along, to play out the album.  If the previous 'Hands On' album took long enough to record at two years, the band have surpassed themselves this time round, stretching this one out a whole 12 months longer. But, it was worth the wait, as all the time spent at RKmusic's  'Shabby Road' studios has resulted in another quality album. Can't wait to see Paul Gambachini on the telly, eulogising about this marvellous, lasting  contribution to popular music culture. Well maybe not, but hopefully, all of you who have a listen to Riff Raff's latest offerings, will enjoy what you hear.
Getting your hands on a copy of  'Stranger Here, Than Over There' :
Copies of the CD are available direct from RKmusic. Just go to the front page of this website, click on an 'Add Comment' button and send me a message. Your request will be dealt with promptly.
iTunes …  https://itun.es/gb/svwJbb  to preview, buy and download
Spotify …  https://open.spotify.com/album/2N9iz4Hfse0yGfyBCIT511 for a free listen
Also … listen on YouTube
---
Latest News  (2/5/2012 ) : 
  * New Release  * New Release  * New Release  * New Release  * New Release  * New Release  *
*   ' H a n d s   O n '   b y   R  i f f    R a f f   *     
Yes fans, it's finally here !  The band's new CD entitled 'Hands On' has now been released.
It's a 12 track album of original stuff with Rob, John and Ian writing four tracks each.  There's something for just about everyone with the psychedelic overtones of 'The Perfect Crime', the almost folky 'Sorry For Any Delay ',  the countryfied 'Turn Around'  and 'Back To Square One',  a sort of progressive blues –  plus much much more !   It's a real departure from the band's covers-band roots and the album's release coincides with the tenth anniversary of the formation of the band.
After nearly two years working on the project,  the release is to be marked with a private launch at 'Shabby Road' studios where most of the CD was recorded.  The whole band will be in attendance with their other halves.  Drinks and nibbles are ready to be consumed as well as the now legendary tea, 'Russian Caravan' whilst partaking of the viewing of the DVD, a limited edition which is a sort of documentary, comedy, farce all rolled into one  – a sort of poor man's Spinal Tap !
Getting your hands on a copy of the 'Hands On' CD :
Firstly, for a 'taster' of the new album, why not have a look at the  'Hands On' Promo Video  in the website gallery.  Or  Listen on Spotify  if you want to hear any of the album tracks.  Also … listen on YouTube.
Details of how you can get your hands on ( get it ?! ) a copy, can now be revealed as the album is now available for general purchase.
You can buy from  the iTunes store  for the bargain price of just  £7.99  for this wonderful, classic pop-rock masterpiece !
You can also buy a copy direct from RKmusic for the same price.  Just go to the front page of this website, click on an 'Add Comment' button and send me a message. Your request will be dealt with promptly.
So, exciting times for the band and all you fans out there.  Make sure you save up all your pennies and buy your copy !
BFN,  Rob   ( on behalf of the 'Riff Raff' boys ! ) 
---
Riff Raff :   The Band   –   All about the  'Riff Raff'  boys !
Rob Kemmenoe
Continuing his activities with Riff Raff, of course, along with other stuff including the weekly appearance at Jam Night and scraping around for any solo gigs that might be going. Also co-organises the annual Robfest acoustic festivals – hence the 'Jools Robfest' tag. These seem to be quite popular with the specially invited audiences.  Was heavily involved with the 'Hands On' project which Riff Raff released in 2012, including editing, mixing and working on the DVD. This has been followed up with 'Stranger Here, Than Over There, Riff Raff's latest project, released in April 2016.
Ian Andrews
Now firmly established as the band's keyboard player having played for many years in the role of rhythm guitarist.  Ian's keyboards have enbellished and enhanced the band's sound. This has resulted in a wider range of musical offerings, enabling the band to tackle more diverse tunes from yesteryear. Ian also has a string of solo CDs to his name on which John Kempton is regularly featured on lead guitar.  Ian has been much involved with the 'Hands On' and 'Stranger Here, Than Over There' albums.  But don't take my word for all this !   In the words of the man himself :
… Ian Andrews: A Brief History of Rhyme :  I bought my first real six string. Played it 'til my fingers burned. Bought it off a bloke at work. It was the autumn of '75.  So began a lifetime of writing litigiously close-to-the-original lyrics which could never be used, and serving only to divert me from my plan for world domination. My teenage rock 'n roll rebel phase, such as it was, didn't really happen until I was well in to my twenties, having spent my late teens learning folk guitar at night school, where incidentally, I learned to play such classics as "Banks of The Ohio", Streets of London" and "Song of Wyoming"….nice. I found that in the late 70's, very few rock bands were recruiting finger-picking lead guitarists. It was fortunate then, that I was introduced to fellow future Riff-Raff member, John Kempton, who taught me my first bar chords. After that I was away and no longer had to fastidiously manicure my right hand before playing.
My first guitar playing public appearance was at Northwick Park Hospital, Harrow, where the drama group put on an America-themed evening. I believe I wowed them with "Country Roads" and "Leaving on a Jet Plane". Frustratingly, though not surprisingly, it would be another 12 months before I got another opportunity to play live. On 14th February 1978, at the same venue, I appeared in a short-lived band called "Wellington Boot and Marlon", featuring John K and myself on guitars and vocals, and Steve Hill on drums. A packed house was left baying for more. Sadly, they didn't get any. Between 1978 and 2002 most of my live performances were either solo gigs, including a residency at the Northwick Park Hospital Social Club, or else were part of shows or pantomimes. My appearance at the Kings Lynn Women's Institute in the early 80's must go down as one of the more unusual gigs one could land. Mind you, playing guitar in full Tin Man costume at the 1978 NPH panto must be up there with it.
My song writing developed during the 1980's under the influence of The Beatles, The Moody Blues, 10cc and copious amounts of home brew (thanks to my other hobby). I was frustrated however, by a lack of funds, which prevented me from being able to record my songs the way they were meant to be heard. Of course, now I AM kitted up with the right gear, I find that I don't have the time to write many new songs. Swings and round things…..  In 1984, realising that we had a spare piano in the house, I thought I'd better learn to play it. And so began another course at night school.
I got to know Rob around 1989 via Rosie, who knew my wife, Jane. Over the next few years we saw in a musical new year on several occasions. In fact, Rob and I were the turn at Rosie's millennium eve party, which if memory serves me correctly, was the only time I've ever been drunk on champagne and then conga'd in the street. Happy days!
In the summer of 2002, I was sitting next to the Harrow Cricket Club colts' manager, watching his sons' band playing their first tentative gig. I suggested that the club should put on live music on a regular basis. He agreed but said that he didn't know of any bands that would play for next to nothing. Quick as a flash, I volunteered my band, to which he replied: "How soon can you play?" This set me back a bit, as I hadn't actually been in a band for 24 years. I told him to give me a month to get the lads together as we were a bit rusty! Several frantic phone calls later and Riff-Raff was born, the initial line up consisting of me, John Kempton and Rob. I didn't have a portable keyboard at the time, so we were an all-guitar band. Our first gig required backing tracks for the bass and drums, but later we used a drum machine, and John's brother in law, Keith, played one or two gigs for us as well.
The current R-R line up is (musically) well balanced, with drums, bass, keyboards and everything. I'm in a proper band! Why couldn't it have happened 30 years ago?!
The Ian Andrews Solo Discography : ELEVEN (2003) : No Ties in Greenford / Slave / Tuesday's Child / I Don't Believe / Because of You / Ready to Fall / Sorry for any Delay / Store Detective / Two of Us, Two of You / Vision in Blue (Return to Greenford) / Tell Me   BESIDE MYSELF (2006) : There's Something Wrong / Lady Jane / Now Here we Lie / Van Load of Trouble / Travellers / Sitting in The Bar / Laugh it off Lightly / Buona Sera / Fox on the 14th Floor / A Few Just Words / I've Tried / The Way You Press It   SOME OLD FOLK (2008) : Living Isn't Easy / Bird of the Night / Daydream World / I Don't Give a Monkey's / My Mind Was Set on You / Thelma / French Kisses / Too Many Ways / Searching / Hearts / Lonely Eyes of Blue / Without a Tear / The Last of It   COVER TO COVER (2009) : The Letter (Carson Thompson) / For My Lady (Thomas) / Showdown (Lynne) / Alone Again (Naturally) (O'Sullivan) / Afternoons and Coffeespoons (Roberts) / You Got It (Orbison/Petty/Lynne) / Simple Game (Pinder) / You've Got to Hide Your Love Away (Lennon/ McCartney) / The Things We do for Love (Gouldman/Stewart) / Roll To Me (Currie) / Heart of Gold (Young) / Days (R.Davies)   ALMOST ENTIRELY (2011) : Living Wild / Welcome To The World / You'll Never Cross Me Again / Ocean Girl / Happy / Shades Of Gold / Talk To Yourself / Pleases! / Something Special / Key Marginal / Do Cows Need Friends?   STRIDULATION (2014) : Rockin' at The Railway / The Next Day Morning / Tomorrow's Hope Never Dies / I Stood Alone / Took Away The Light / Man and a Suitcase / Ruby / Rhythm of Your Smile / Moonlight / Caught Smoking / Crazy Little Love Thing Called / Won't You Tell Me What To Do / Oh Santa Claus / Stridulation
John Kempton
Has continued his role as guitarist within the band along with his equally crucial functions of tea maker extraordinaire and expert gourmet. Suffice it to say, no one knows how he fits in his day job. John's anecdotes of life at the hardware store ( particularly at 4.55pm ) for example, are legendary and have elevated John to cult status. More recently, his employment has seen him move to a pharmacy post within the NHS, but the tales and anecdotes of some of his work-mates, still come thick and fast.  John's addiction to 'Russian Caravan' (that's tea, in case you don't know ) has taken hold recently, taking the rest of the band with him !  John still intends making recordings of his own stuff, despite having been saying this for the past 30 years or so. However, the 'Hands On' CD enabled him to record four of his own songs with the band plus another four on 'Stranger Here, Than Over There'.
Pete Atkins
Firmly established as the band's bass player. This despite trying to quit a few years ago, following his move down to the peace and quiet of Marlborough, Wiltshire.   Pete's distinctive headgear is now a familiar sight when Riff Raff take to the stage. Could there be a marketing and merchandising opportunity here ?  Pete has played bass guitar on the 'Hands On' CD and even joined in with a rather off-the-wall backing vocal. He added more backing vocals on 'Stranger Here, Than Over There' but sadly, no bass guitar.
Derek Lydiatt
Can often be seen banging away behind his bongos or a snare, as he does every year at Robfest or sitting behind the full kit.  Derek is a veteran of the Abrook Arms Jam Nights in Uxbridge that used to take place on Sunday nights, but sadly are no more.  Derek is a man of many talents. The Riff Raff design on the front of his bass drum is his own design. Copyists watch out though, he may have got it copyrighted !  Derek played on the band's 'Hands On' CD and was the Drumming Consultant for the project.
Here are some more Bongo Star facts, in his own words :  A potted history of Bongo Starr :  I suppose I got the bug for playing drums from my Mum and Dad, who apparently played gigs in the local pubs, mum on squeezebox and my dad on cardboard box with drumsticks. Had a drumkit at 17 much to the annoyance of the neighbours and in fact anyone that knew me.  Didn't take up drumming seriously though till the 90s, when I finally had enough time to devote to learning to play them.
Played with lots of bands,  and quite a few different styles of music,  first band was named Peaches and Diesel, playing R&B. Then a change to Adie and the Outfit a country rock band, then a spell with a band called Magic Circle playing physcodellic rock – weird time signatures – but played some very well known venues with them – the Half Moon Putney, Dublin Castle in Camden, and the Black Head in Fulham. Formed a band called 3 Smoking Guns playing blues and rock, who later became the Breakaways.  Was house drummer for the Sunday jam night at the Abrook for a while. What great nights they were!  Also was house drummer for the jam night at the Black Horse Richmond.
Met Riff Raff via an advert in the music shop in Uxbridge. They wanted a drummer so I applied and theyve been putting up with me ever since.         BONGO!
So what of Riff Raff in the early days ?   Well, Ian and John founded the band, along with the services of Rob and his infamous Stratocasters in 2002. All this was pre Pete and Derek so the band had no bass player and only a drum machine at that time. So with just the three of us, Riff Raff was launched on an unsuspecting world – well, Harrow at least.
Darryl Godfrey
Shortly after these modest beginnings, Darryl Godfrey joined the band on harmonica to add a bluesy touch to some of the more bluesy numbers on the band's set list. We all enjoyed many hours of fun together in the rehearsal rooms at Ruff Rockers Studios and Darryl chalked up a good many gigs too. Darryl was also an inspiration when it came to sorting out the PA and resolving other technical gliches too.  Sadly missed, Darryl went to live in Switzerland in 2006. I think it's quite a compliment to the rest of us left in Riff Raff that he didn't go the whole hog and move as far away from us as possible and head for his native Australia instead.  Darryl's departure eventually resulted in Ian leaving his guitar to one side and introducing keyboards into the band, which is still part of the current line-up in 2012.
---
Riff Raff Ian wins Radio competition.
Yes folks, Riff Raff's very own Ian Andrews won a competition on Absolute Radio back in October 2009. But, what was the prize ?  Well, as it happens, there were two parts to the prize up for grabs. Hot off the press and from the horse's mouth, Ian ( not that I'm implying that Ian resembles a horse in any way – thought I'd better just clarify that, before he sues for deformation of character, slander or puts a contract out on me. With that out of the way, I'll continue … ) has now furnished me with the details of his good fortune. The first part of the prize was a shiny new Squier Stratocaster guitar ( by Fender – well, that's what it says on Squier guitars as far as I'm aware and I thought it best to quote it here to avoid upsetting anyone in the Fender organisation with regard to their copyright regulations … just to be on the safe side you understand ),  followed by the second part of the prize, which was time in a recording studio for a recording session. Not yer usual bog standard Rehearsal session !
Ian smuggled in his son Paul and Riff Raff chum John Kempton, to assist with the recording. Ian having got his hands on his new Strat, was whisked off with Paul and John to the studio, presumably at a secret hidden location somewhere in the London area – presumably !  Ian says, "The recording session was at 'Slap' Studios in Brixton ( obviously dedicated to the follicularly challenged). The engineer was Simon, and he was a very nice man. A very, very nice man." I think you'll agree, these prizes certainly beat a Jackanory pencil and a Blue Peter badge – in my book anyway. Not so sure if it's better than a knee in the temple and a dagger up the … anyway, there's only one way to find out … ! I'm sure one of Ian's own compositions would have been a prime consideration to record – or perhaps his favourite Des O'Connor number ? !  ( He doesn't really do Des O'Connor stuff, I'm just casting aspersions ! )
Ian continued, "The competition organisers even provided 2 travel cards for the day. John, of course, preferred to use his old person's bus pass instead. I'm hoping to transfer the recording ( called 'You'll Never Cross Me Again') into Cubase for further overdubs and polishing."  I have to say, I'm looking forward to hearing what they got down on tape. Oh, it's all digital now isn'it ? ! Unfortunately, there wasn't enough time to complete the whole number as they only had 90 minutes. And there's another part of the prize which includes The Beatles Rock Tour of London.
So what  was the question ? Probably something to do with how to get rid of rat infestations or wasps nests or something equally as cryptic to the average punter ! No ! Ian won the competition by knowing the next line of Yellow Submarine and singing it down the phone live on Absolute Radio !
---
Anyway, back to the most modest of beginnings. I've managed to salvage some genuine early Riff Raff archive material from the official Riff Raff website, circa 2002. So here we have it. What follows was originally published on the official Riff Raff website, reproduced here on my unofficial Riff Raff website – How very dare I  ! !
Home
Riff Raff are based in Harrow and play a variety of music from the 50's through to the present day. Numbers such as Pink Floyd's "Another Brick in the Wall" and Oasis's "She's Electric" are timeless sounds and a hallmark of the band today.
Gigs
There are two new gigs lined up for the band, both at Harrow Cricket Club.
The first, on Friday 25th October 2002, will be in the Main Hall, starting at 8.00pm. The bar will be open until 11.00pm.
The second gig (THE BIG ONE!) is on Saturday 2nd November 2002 in conjunction with club's Firework Evening. Tickets will be available on the night, priced £5 for adults, £3 children, and £13 for a family of four. Doors open at 6.30pm. Live music will commence soon afterwards.
This is an outdoor concert (weather permitting) and there are likely to be upwards of 3,000 people attending, so you are advised to arrive early.
The band will be playing 2 sets, starting 6.45pm and 8.45pm approx, with the firework display in between. Other attractions, such as a fire-eater and a tombola, are also lined up.  The bar will be open until 11.00pm. Food will also be available.
Having been some time in preparation, a splendid time is guaranteed for all!!!!
About
Riff Raff :  A Potted History
Formed in spirit a couple of years ago when John, Ian and Rob first jammed together round each other's houses, whilst bemoaning the fact that few venues seemed to want to host live music these days.
A formal union and naming of the band did not take place until after a chance discussion between Ian and the Harrow Cricket Club Chairman, Ray Bennison, about the possibility of holding live gigs at the club. Having offered the, as yet, non-existent band's services, (free of charge!), with only a few weeks notice, Ian decided it would be a good idea to put it to the other guys. Fortunately, John and Rob were up for it. The name "Riff Raff" was one of John's better suggestions, having come up with around 397 other names over the last 25 years; "Raw Sewage" being one of his favourites. "Riff Raff" seemed to sum up the band at the time. They were skilled musicians, and yet weren't particularly well organized. Mind you, had they called themselves "Disjointed Rabble" I think it would have sent out the wrong message.
Having got their first gig under their belts, which was warmly received, and a couple more in the offing, the guys are looking to their musical future with renewed optimism.
Band Profiles
Ian first picked up a guitar at the age of 18, and promptly put it down again when he realized that the store detective had his eye on him. Undeterred, he eventually bought an acoustic guitar, which enabled him to indulge his passion for singing Beatles songs. After all, singing unaccompanied late at night can get you arrested for being drunk and disorderly (especially when you are). Ian's rhythm guitar skills were honed during many years of writing and recording his own brand of rock/pop/blues/country … call it what you will, and as well as playing with Riff Raff, Ian has been putting together a CD of his work. Ian met fellow band member John Kempton through a mutual friend, who thought they might get on well together. Not wanting to rush things, they decided to wait 25 years before plunging into the seedy world of gigging, having met the third band member, Rob Kemmenoe, in the interim. Beware World, they've acquired a taste for it!
Having taught himself to play Guitar,Rob quickly developed a fixation for Stratocasters. In fact you can sometimes see him on his knees bowing in worship to his trusty Strat! The 80's saw Rob "depping" for bands "Total Eclipse" fronted by Bob Fletcher, fronting the Social Club Circuit! In the 90's Rob formed and fronted band such as "Guess" and "Scorched Air" playing heavy Pub Rock – gigging in such pubs as The Red Lion, Brentford and The Railway, Wealdstone – both now defunct. All this before attempting retirement,only to be dragged out in 2002 by a fateful "Ian Andrews" phone call. Rob's major influences in clude The Beatles, Pink Floyd, Deep Purple and Moody Blues. Rob is also currently working on a CD of his own stuff and hopefully it wil be ready for release in 2003? Bearing in mind he has been working on it for 5 years already, it is obvious that Rob has been playing too much cricket and 5-a-side football. Oh, and the day job gets in the way too.
Began playing guitar in 1965 and immediately started writing his own material. First gig was at Christmas '65, where he learned the principles of crowd-pleasing and stage fright in equal proportion. Graduated from school bands through various musical incarnations and styles until he formed Riff Raff with Rob and Ian in an attempt to get back to his first love, straight forward rock'n'roll. Admires songwriters rather than musicians. Influences include Brian Wilson, Ray Davies, Gerry Rafferty, Jimmy Webb, Keef 'n' Mick, Nick Lowe and, of course, early John and Paul.  Dislikes American Hard Rock, loves American Hard Gums.